Rock am Ring and Rock im Park
The Rock am Ring (German for "Rock at the Ring") and Rock im Park ("Rock in the Park") festivals are two simultaneous rock music festivals held annually. While Rock am Ring takes place at the Nürburgring race track, Rock im Park takes place at the Zeppelinfeld in Nürnberg.
Both festivals are usually regarded as one event with a mostly identical lineup for both festivals. All artists perform one day at the Nürburgring and another day in Nürnberg during the three-day event. There have been minor exceptions in the past years where an artist would be announced for one of the festivals only. Combined, Rock im Park and Rock am Ring are the largest music festivals held in Germany and one of the largest in the world with a combined attendance of over 150,000 people in 2007, selling out both events in advance for the first time.
History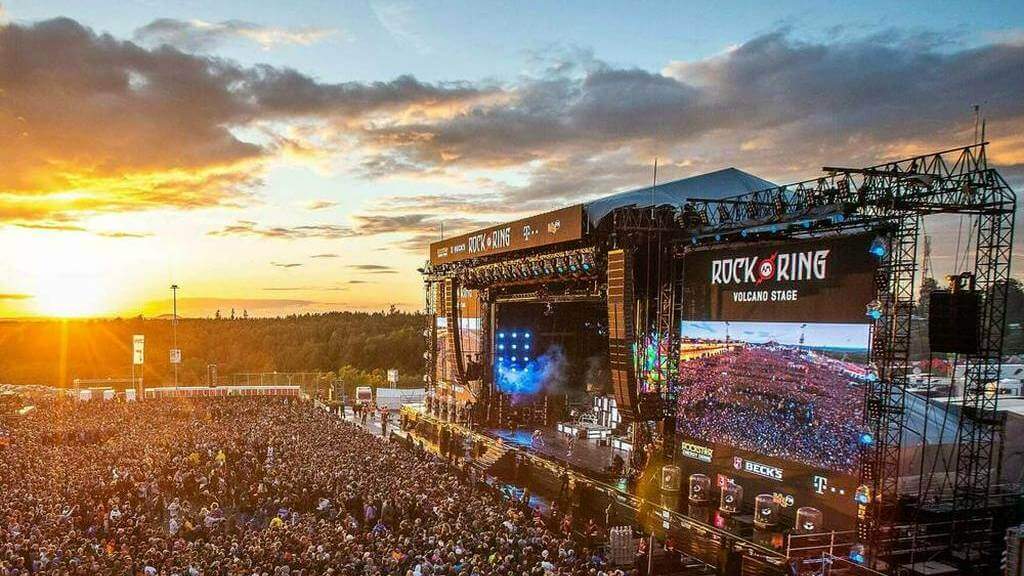 Rock am Ring was originally planned as a one-time festival on the Nürburgring celebrating the inauguration of a newer, shorter version of the race track in 1985, but due to its commercial success (with 75,000 audience members), it was decided to make the concert an annual event. However, after a dip in attendance for the 1988 event, the festival was put on hiatus for two years. In 1991, the festival returned with a new concept: as well as featuring well-known artists, event organizers present lesser known up-and-coming bands to the public. In 1993, Rock im Park took place for the first time in Vienna. For the 1994 event, Rock im Park moved to the disused Munich-Riem airport, and the following year to Munich's Olympiastadion, where it found a home for the 1995 and 1996 event. 1997 Rock im Park moved to Nuremberg's Frankenstadion where it was held until the venue was unavailable in 2004 because the stadium was being renovated for the 2006 Football World Cup. Since 2004 the venue moved again to the current Zeppellinfeld, where Rock im Park was since held with the exception of the 2006 festival, which was moved to the Luitpoldhain.
The 2007 festival was used in a science experiment to test the effects of large bodies of people simultaneously jumping. The experiment data was used to calculate the result if the entire Chinese population were to jump in unison. The experiment concluded no significant results would come from the theoretical event.
After 29 editions of Rock am Ring, the new owner of the Nürburgring decided that the contract would not be extended. The festival continued at another location in 2015 and 2016 (Mendig Air Base/Vulkaneifel), returning to the Nürburgring in 2017.
On April 16, 2020, the 2020 festival was cancelled due to the ongoing COVID-19 pandemic